The US-Afghan military industrial complex surrounding Orlando terrorist Omar Mateen's father stretches from Blackwater to Donald Trump.
There are many threads to this tragic, horrifying story of a gay American son of an Afghan mujahid.
There's the question of blowback: the deep politics of short-sighted military interventions and the self-defeating profiteering of the military industrial complex. There's the escalating clash of cultures and the crisis of multiple identities that is becoming evermore fractious as Western wars have brought unresolved chaos to foreign shores, and invited foreign refugees from theatres of war to the homeland. And ultimately, there's the destructive force of repressed sexuality.
This investigation throws light on the complex political, cultural, religious and personal forces that likely nurtured the Orlando terrorist into a man capable of tremendous violence.
The story opens up from an exclusive analysis of the network of companies surrounding Omar Mateen's father.
Company records obtained by INSURGE intelligence reveal that Mateen's father has longstanding ties to a network of powerful Afghan expatriates connected to the US government, private American defense contractors, and pro-Taliban warlords.
Mateen massacred 49 people and injured 53 at the Pulse nightclub in Orlando, Florida, in what has been widely recognized as an unprecedented homophobic attack — and the worst mass shooting in modern American history since the wanton massacre of Native Americans.
Omar Mateen had also worked as an armed security officer for G4S — the world's largest government security contractor by revenues — for the last 9 years.
G4S in Florida has been contracted by the US State Department and British Foreign Office for security operations in Afghanistan.
In 2010, a US Senate investigation heavily criticized the State Department for hiring G4S subsidiary ArmorGroup, which had been sub-contracting Afghan warlords tied to the Taliban and al-Qaeda to outsource certain security functions.
But G4S is not by any means the main connection between the ISIS-inspired Orlando homophobe, and the murky politics of Afghanistan.
A soldier's son
Omar Mateen's father, Mir Seddique Mateen, is part of a network of influential Afghan expatriates working closely with a vast range of US government departments and agencies. The expatriates also have direct connections to the US-backed government in Afghanistan, as well as with warlords opposed to the Afghan regime and sympathetic to the Taliban.
Some of these expatriates were close to the late Mohammed Zahir Shah, the last King of Afghanistan, who was deposed in a 1973 coup covertly backed by the Soviet Union. As such, they were at first particularly close to the Hamid Karzai regime in Kabul, which had appointed many of Shah's relatives to government posts.
According to Ahmad Saeedi, a political analyst in Kabul, Omar Mateen's father, Mir Seddique Mateen, fought in the Afghan jihad to expel the Soviet invasion, before emigrating to the US thirty-one years ago:
"A fierce anti-communist, Mateen was a captain in the ranks of the mujahedeen who fought the Soviet occupation, Saeedi said. Once in the US, he promoted himself to the rank of general."
Successive US administrations at the time poured billions of dollars into the Afghan war against the Soviets. Among the mujahideen who benefited from the US policy were Osama bin Laden, who used the networks built-up during the Cold War to create his al-Qaeda terrorist network.
Omar Mateen was, in other words, the son of an ex-mujahid who fought to repel the Soviet Army from Afghanistan.
Mir Seddique Mateen is now a founding director of a number of seemingly innocuous US nonprofit companies relating to Afghanistan. Yet these companies provide a surprising window into Mir Seddique's connections to a powerful network of Afghan expatriates.
Those Afghan figures, in turn, have links to both the US-backed Afghan jihad during the Cold War, as well as to senior figures involved in the invasion and occupation of Afghanistan.
Some of these details have been reported sporadically by journalists, but none have grasped their alarming significance.
Hail to the King
Among Mir Seddique's companies, the most relevant is The Durand Jirga Inc., which was incorporated on 30th November 2010. The company's Articles of Incorporation say that The Durand Jirga Inc. is "organized for exclusively religious, charitable, educational and scientific purposes… Specifically, the organization will mediate and attempt to resolve social and territorial disputes."
The company name is a reference to the historic 'Durand Line', the disputed boundary between Afghanistan and Pakistan established by the British in 1893 that stretches between ethnic Pashtuns, Baloch, Uzbek, and other ethnic groups residing on both sides.
The late King Shah, who died in 2007, had at various times questioned and even renounced the Durand Line as an invalid colonial boundary that had permitted Pakistan to occupy Afghan territory. During his reign until 1973, he frequently delivered pro-Pashtunistan speeches extolling a nationalist Afghan vision rejecting the Durand Line.
This is precisely the position adopted by Omar Mateen's father, Mir Seddique, in his occasional TV show broadcast via 'Payam-e-Afghan', a satellite television network based in Los Angeles, California, aimed at Afghan expatriates.
In 2010, one of Mir Seddique's directors at Durand Jirga Inc. was Qasim Tarin. In the aftermath of the Orlando killings, Tarin was sought out by some journalists, and insisted that the gunman's father was "obviously against Taliban and ISIS and all that."
"I've known him for a long time," said Tarin, who also appeared on Mir Seddique's TV show. "To his Facebook and all, he is absolutely against ISIS and Pakistanis and, of course, ISI intelligence."
Mir Seddique has frequently criticized the Taliban, but has also occasionally praised the group when he saw it as potentially undermining Pakistan.
"Our brothers in Waziristan, our warrior brothers in [the] Taliban movement and national Afghan Taliban are rising up," he said in one broadcast. "Inshallah, the Durand Line issue will be solved soon."
Mir Seddique's 'old friend' and the US-Afghan military industrial complex
But Qasim Tarin is far more than just an old friend of the Orlando terrorist's father. During his stint on the board of Mir Siddique's Durand Jirga Inc., he was simultaneously on the Board of Directors at the Afghan-American Chamber of Commerce. In 2011, he became Interim President of the AACC's Northern California Chapter, then became permanent president in 2012.
Tarin resigned from his directorship at The Durand Jirga that year to focus on the new role, but remained close friends with Mir Siddique.
The Afghan-American Chamber of Commerce was founded in 2002, months after the US-led invasion of Afghanistan. It is basically a key forum for the US-Afghan military industrial complex.
Sponsored by the US State Department, Commerce Department, and USAID, the AACC's board includes Col. James L. Bullion, former Director of the Pentagon's Task Force for Business and Stability Operations; Marine Corps Major General (ret.) Arnold Fields, the former US Special Inspector General for Afghanistan Reconstruction (SIGAR); Jeffrey Grieco, former Chief of Communications and Government Affairs (2009–14) for International Relief & Development (IRD), an NGO "implementer" for the Department of State and US Agency for International Development (USAID); Ambassador Said Tayeb Jawad who served as President Karzai's Press Secretary, Chief of Staff and Director of the Office of International Relations; former Congressman Don Ritter, who as the Chairman of the Congressional Task Force on Afghanistan was one of the main architects of the US strategy to support the Afghan mujahideen during the Soviet invasion and occupation.
The AACC's LinkedIn profile says that the Chamber:
"… advocates for a market economy in Afghanistan… and serves as a link between business and government to encourage economic policies that will result in increased business and investment between the US and Afghanistan."
The AACC organizes regular 'business matchmaking' conferences to facilitate US private sector investment in Afghanistan. These conferences have been sponsored by major US defense contractors like DynCorp International, SOS International LLC (where former Bush administration deputy defense secretary Paul Wolfowitz sits on the Board of Advisors), as well as other private sector firms.
While Mir Seddique is not a member of the AACC, the Chamber is co-directed by his friend Qasim Tarin. Both Tarin and Mir Seddique have also worked together as part of the Unity and Freedom Movement of Afghanistan (UFMOA), an expatriate Afghan lobbying group which has drawn extensively on Tarin's connections to the US-Afghan military industrial complex to organize meetings with Washington insiders.
From Donald Trump to Zalmay Khalilzad
It is perhaps ironic that both Donald Trump and Ted Cruz, who have issued predictably inflammatory remarks blaming American Muslims for the Orlando attack, find themselves plugged into the same US-Afghan military industrial complex surrounding Omar Mateen's father.
In 2009, at the AACC's fifth annual business matchmaking conference in Washington DC, one panel on 'Cooperating with DoD [Department of Defense] on Economic Development' was chaired by Joseph Schmitz, a former Pentagon Chief Inspector General who was now working with SIGAR in Afghanistan.
Joseph Schmitz went on to become a Senior Fellow at the neoconservative Center for Security Policy (CSP) run by former Reagan Pentagon official Frank Gaffney. Gaffney was most recently the National Security Advisor to Republican presidential candidate Ted Cruz. As for Schmitz, he is now Foreign Policy Advisor to presumptive Republican presidential nominee Donald Trump.
Schmitz, along with AACC executive Arnold Fields, previously succeeded in dramatically failing to exert meaningful oversight over the US government's dubious contracts with private defense firms.
It was not until the US Senate investigated, for instance, that it emerged that Omar Mateen's employer G4S had sub-contracted security services to Afghan warlords linked "to murder, kidnapping, bribery, and anti-Coalition activities."
Unlike the US government's own inspector generals, the Senate report found that G4S was well-aware of their connections with the Taliban, but hired them anyway.
At the CSP, Schmitz made-up for his lack of concern about the US government sub-contracting to pro-Taliban extremists by co-authoring a bizarre report claiming that Shari'ah law was literally on the brink of taking over the United States.
Equally bizarre, Schmitz's co-author was former CIA director R. James Woolsey, who was previously Senior Vice President at NSA-contractor Booz Allen Hamilton.
This May, the AACC's 14th general annual meeting in Virginia hosted former Ambassador to Afghanistan, Iraq and the UN, Zalmay Khalilzad as a keynote speaker. Khalilzad is a longtime senior Pentagon official who played a key role in US assistance to Islamist mujahideen networks in Afghanistan during the Cold War (and in the Balkans after the Cold War). He was also a major force in the Bush administration's wars in Iraq and Afghanistan.
Khalilzad's wife, Cheryl Benard, was until recently a direct colleague of Qasim Tarin as a board member of the AACC, where she led one of the Chamber's working groups. She resigned from the AACC board after it emerged that both Khalilzad and Benard were being investigated that year by US and Austrian authorities as part of a multi-million dollar money-laundering probe.
From Blackwater to DynCorp
Qasim Tarin's other connections could throw some light on the fraught political context in which Omar Mateen transitioned from a student into adulthood.
Tarin was also the director of a number of other nonprofit companies with interests in Afghan politics. Company records identify Qasim Tarin as the registered agent for the International Association for Afghans and Balochs, Inc., which is now defunct.
The company was registered to the same address as several other companies controlled by Tarin at one time or other: the Afghan Business Network, which Tarin founded and ran for nearly a year in 2010; the Unity and Freedom Movement of Afghanistan; the Afghan International Development Corp; and the Wahidullah Ahmed Zai (WAZ) Group.
The WAZ Group is an especially useful indicator of the nature of Tarin's network of companies. A fuel supply and logistics company registered with Afghanistan's trade ministry, the firm's clients include the present government of Afghanistan, the US Department of Defense, several private US military contractors including the notorious Blackwater (now Academi) and DynCorp, as well as the US Army's Special Forces.
As such, the WAZ Group is directly complicit in the Obama administration's continuing stealth occupation of Afghanistan. In 2012, the firm formerly known as Blackwater won a no-bid $22 million 3-year contract to provide logistical support for the US Special Operations Joint Task Force compound in Kabul, Camp Integrity.
The uncle of jihad
Tarin is still a registered agent for all these companies, and his company Electro Imaging Systems Inc., is the registered address for all of them.
The Afghan Business Network is run by Tarin's colleague, Homayoun Rahnoma, who is the Interim Vice President of the Afghan American Chamber of Commerce.
The Unity and Freedom Movement of Afghanistan (UFMOA) is another active nonprofit company incorporated in 2012, whose President is Dr. Abdul Sattar Sirat — the former Minister of Justice in Afghanistan under the late King Shah until the 1973 coup.
The UFMOA's Facebook page describes itself as "the first Afghan Political Advocacy and Lobbyist group", and confirms that the group has been politically active in Afghanistan, regularly sending delegations to Kabul led by Dr. Sirat.
In the wake of the US occupation of Afghanistan and the efforts to transition to a new government, Dr. Sirat was among several political candidates, including Hamid Karzai, who were considered to be potential viable national leaders.
The UFMOA's fundamental agenda is consistent with the 'Durand Line' issue adopted by the late King Shah himself — namely to rollback perceived Pakistani influence in Afghanistan through the Taliban.
But while this might at first glance appear to be relatively harmless, Sirat's various affiliations over time demonstrate that the movement's overall concern is not the Taliban as such — but the role of Pakistan in using groups like the Taliban as forces for proxy influence.
Thus, when Sirat was the initial presidential candidate in the late king's US-UN backed delegation to lead an interim Afghan administration, although he ran as an 'independent,' he did so in a joint alliance with Mohammad Amin Waqad — a former deputy of the terrorist faction Hezb-e-Islami Gulbeddin — who stood for the post of first vice-president under a prospective Sirat presidency.
Hezb-e-Islami Gulbeddin is an extremist Islamist mujahideen faction formed in Afghanistan in 1975 to fight the Soviet occupation. Its founder and leader, is Gulbeddin Hekmatyar, a US designated global terrorist. During the Cold War, Hekmatyar's Hezb-e-Islami received extensive support from the CIA, Pakistani Inter Services Intelligence (ISI), and Saudi intelligence, while he worked closely with Osama bin Laden.
Sirat's willingness to work with Hezb-e-Islami — which was credited with slaughtering far more rival Afghan mujahideen than Soviet soldiers — comes from his personal history of having worked at a high level in Saudi Arabia to facilitate funding for the Afghan resistance.
From 1975 to 1999, Sirat was Professor of Islamic Studies at Um-al-Qura University in Riyadh. He was also a Special Advisor to the Saudi King. According to Alhaj Nasrullah Barekzai, the director of Wahdat-e-Milli-ye-Aqwam-e-Afghanistan (the National Union of Tribes of Afghanistan):
"Sirat was called the uncle of jihad because all [mujahideen] leaders were looking to his funds and the money he collected for them. This title was given [to him] by Mohammad Nabi Mohammadi."
Maulana Mohammad Nabi Mohammadi was the leader of the Harakat-i-Inqilab-i-Islami (Islamic Revolution Movement), a major traditionalist Islamist movement backed by the US through the Saudis to expel the USSR from Afghanistan. He played a pivotal leadership role in the wider mujahideen movement, having served as Vice President of Afghanistan from 1992 to 1996 in the Mujahideen government.
Though Mohammadi was himself a relative "moderate" according to foreign affairs scholar Banafsheh Keynoush, author of Saudi Arabia and Iran: Friends or Foes?, he "helped train many would-be Taliban leaders." (p. 111)
When the Taliban conquered the bulk of Afghanistan in 1996, Mohammadi maintained good relations with the movement. Most of the movement's leaders, including Mullah Omar, had been Mohammadi's students.
Sirat is also related by marriage to Yunus Qanuni, the spokesman for the Northern Alliance, the Afghan warlord network opposed to the Taliban. The initial US-UN vision was to bring in Sirat as leader of a transitional government that would unite the Northern Alliance and other tribal factions in opposition to the Taliban.
But according to the Revolutionary Association of Women in Afghanistan (RAWA), the oldest women's humanitarian and political organization in the country, the sheen of legitimacy the US and UN had tried to grant to the new proposed Abdul Sattar Sirat regime was disingeous. The Northern Alliance, said Tahmeena Faryal of RAWA:
"… have the blood of our beloved people on their hands, as of course do the Taliban… From 1992 to 1996 in particular, these forces waged a brutal war against women, using rape, torture, abduction and forced marriage as their weapons."
In the end, Sirat was pressured by the US to withdraw his candidacy during the 2001 US-brokered transition process — purportedly over concerns about the ethnic balance of the incoming government, and the unlikelihood of his victory. The move allowed the more charismatic (and corrupt) Hamid Karzai, the US preferred option, to step in.
Disillusioned uncle of jihad
While Sirat and his fellow royalists — including Omar Mateen's father and his friend Qasim Tarin — had at first embraced Karzai's interim government with enthusiasm, his rampant corruption amidst credible allegations of flawed or fraudulent elections fueled growing criticisms of the US-backed regime, and of US policy in Afghanistan generally.
In 2004, widespread evidence of fraud plagued Afghanistan's first national elections. Sirat was among the 15 other presidential candidates who, in the middle of the voting, withdrew from the elections in outrage. "Today's election is not a legitimate election. It should be stopped and we don't recognise the results," Sirat said at the time. "This vote is a fraud and any government formed from it is illegitimate."
Karzai's eventual replacement by the presidency of Ashraf Ghani was, therefore, at first cautiously welcomed as a potential positive step, but ongoing corruption allegations led to a resurgence of disillusionment in the expatriate Afghan community around Sirat.
Such context of growing disillusionment with US policy, perceived as a form of ceaseless, disastrous, counter-democratic interference, led Sirat to participate in Paris talks in 2012 hosted by French think-tank, the Foundation for Strategic Research. Sirat himself was present at the talks with delegates representing both the Taliban and Hekmatyar.
The view of Omar Mateen's father Mir Seddique and other expatriates around Abdul Sattar Sirat is that due to the dysfunctional nature of the incumbent US-backed Ashraf Ghani regime in Afghanistan, a Loya Jirga — a traditional Afghan grand assembly of tribal leaders — should be convened to kick-start a new transitional process to a more 'legitimate' government.
'Legitimate' implies a government more focused on anti-Pakistan Afghan nationalism, and ready therefore to take a hardline on the Durand Line issue.
This appears to be the context of Mir Seddique's stated political aspirations to stand as a presidential candidate.
Omar Mateen's father met with senior US and British government officials
This investigation lends some clarity to the task of understanding the cultural context of Omar Mateen's upbringing. His father, whom he had much respect for, was not just a former mujahid in Afghanistan, but an active member of Abdul 'uncle of jihad' Sirat's UFMOA.
Photographs obtained from Mir Seddique's Facebook profile, as well as from the UFMOA Facebook page, show that his connection with Qasim Tarin and Abdul Sirat provided him extensive access to senior political figures in the US. Several photos picture Mir Seddique as a member of UFMOA lobbying delegations to Washington.
The photographs show that in the last few years, Mir Seddique had been able to meet senior US government officials at events and lobbying meetings in Congress, the US State Department, and the British embassy in Washington DC — as late as April 2016.
Mir Seddique did not respond to request for clarification on which government officials he met in these meetings, and why.
The Daily Mail has posted some of these photos showing Mir Seddique with senior Congressional figures such as Dana Rohrabacher, the Republican stalwart who played a major role in the US government's Cold War support for the Afghan mujahideen. Below are different photos from a UFMOA Congressional lobbying event made available here exclusively by INSURGE intelligence: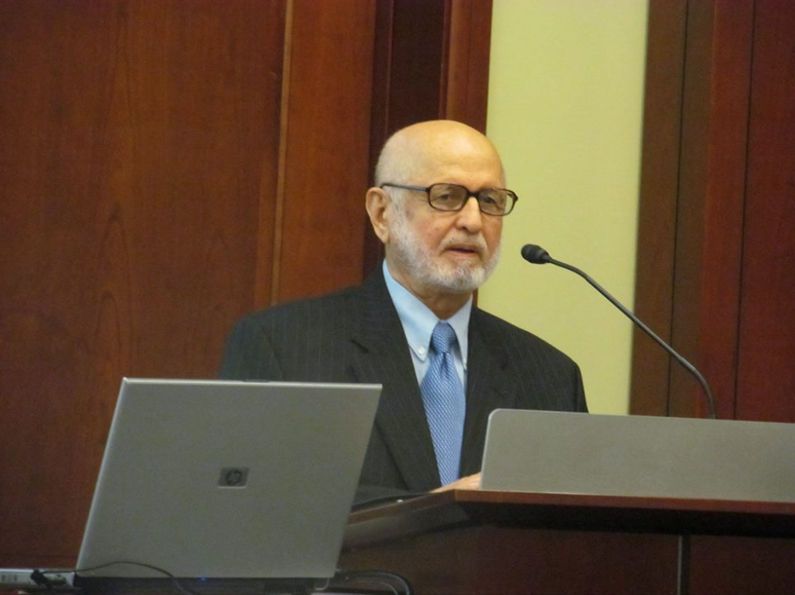 In one photo that was posted with an earlier version of the Daily Mail article — but which is no longer available — Mir Seddique can be seen posing next to Abdul Sattar Sirat as part of a UFMOA gathering.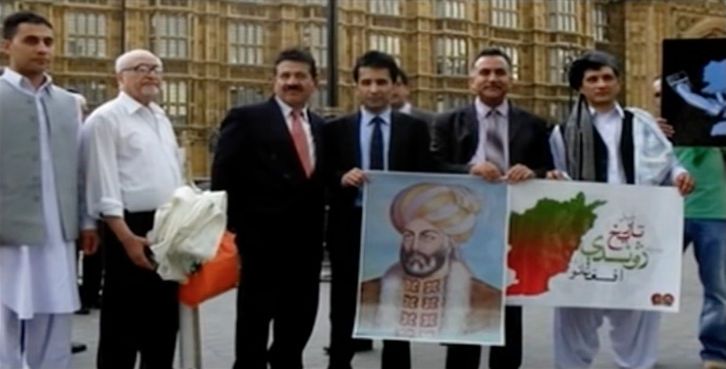 Many other key photographs released here exclusively raise further questions about the extent of Mir Seddique's access to Washington officialdom due to his work with Sirat and Tarin.
In the below photos (dated 15th January 2015), Mir Seddique can be seen attending a meeting at the British embassy in Washington DC. In the first, he is accompanied by two British military officers, one of whom is described as the UK Ministry of Defence's 'military attache', along with his wife.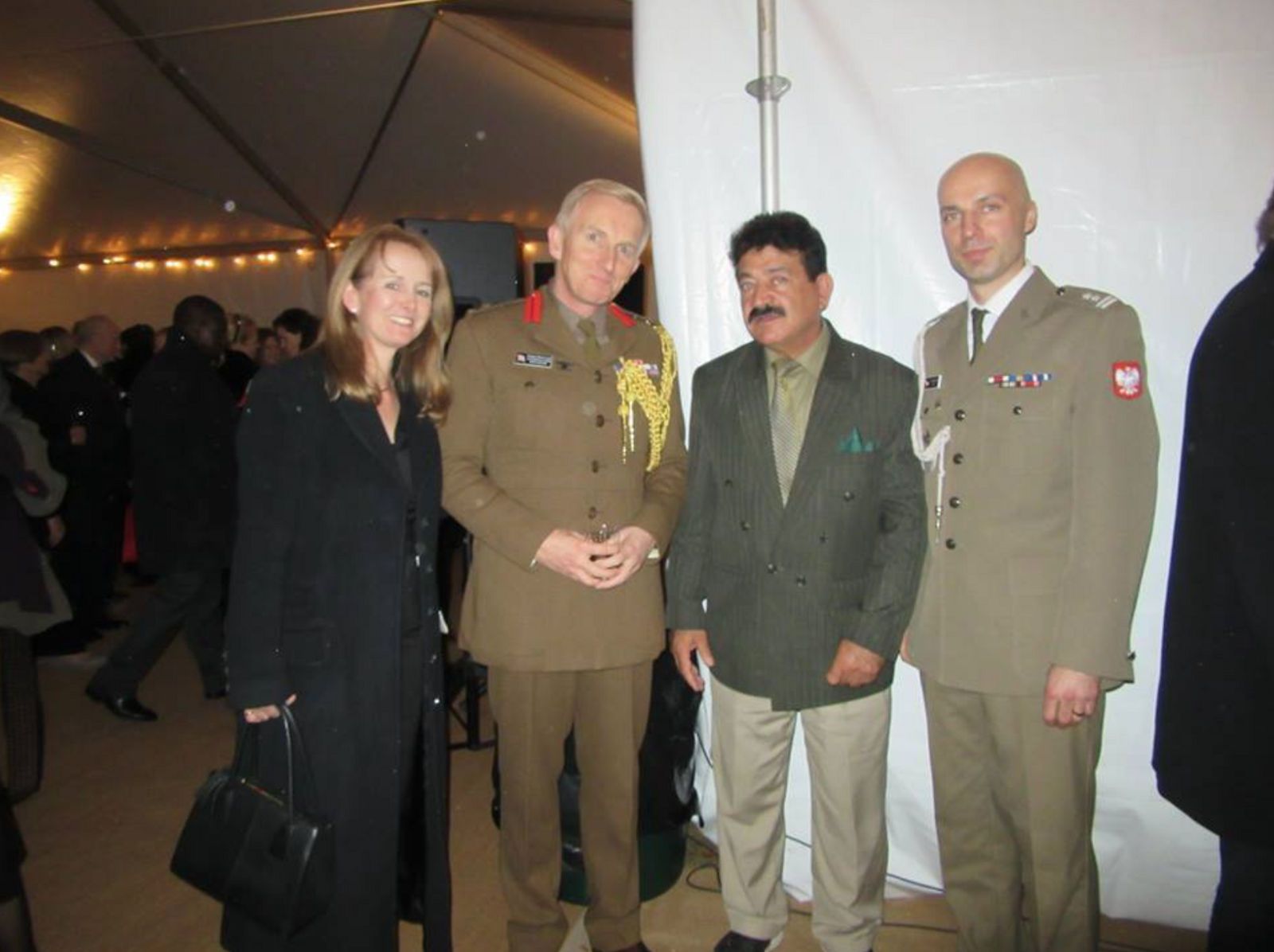 The current British Defence Attache is Major General Richard Cripwell who works with Minister (Defense Material) Steve McCarthy — neither of whom are the individuals in the photo alongside Seddique Mateen.
If Mir Seddique's description is remotely accurate, the two unidentified individuals will be members of the British Defence Staff at the UK embassy, although this has not yet been independently verified. The British embassy in Washington DC has offered no comment on the photograph.
Another photo shows Mir Seddique next to another unnamed man described only as the Deputy Director of Central European Affairs at the US State Department.

This appears to be a sensitive US government position as no official information is publicly available about the role.
INSURGE intelligence has, however, been able to confirm that the Deputy Director of the Office of Central European Affairs — an agency in the State Department's Bureau of European and Eurasian Affairs headed up by Assistant Secretary Victoria Nuland — is Henry Martin McDowell.
McDowell was previously (2013–14) Special Assistant to the Under-Secretary for Political Affairs at the State Department.
There is, however, no public information about McDowell's role at the State Department.
The British embassy in Washington DC was asked to comment on Mir Seddique's attendance at the 2015 event, where he met top UK defense and US State Department staff. Details about the event and its guest-list were requested, but the embassy has failed to respond.
In another photo on the UMFOA's Facebook page dated 2013, Qasim Tarin and other UMFOA members are said to be at a gathering where they will meet Vice President Joe Biden.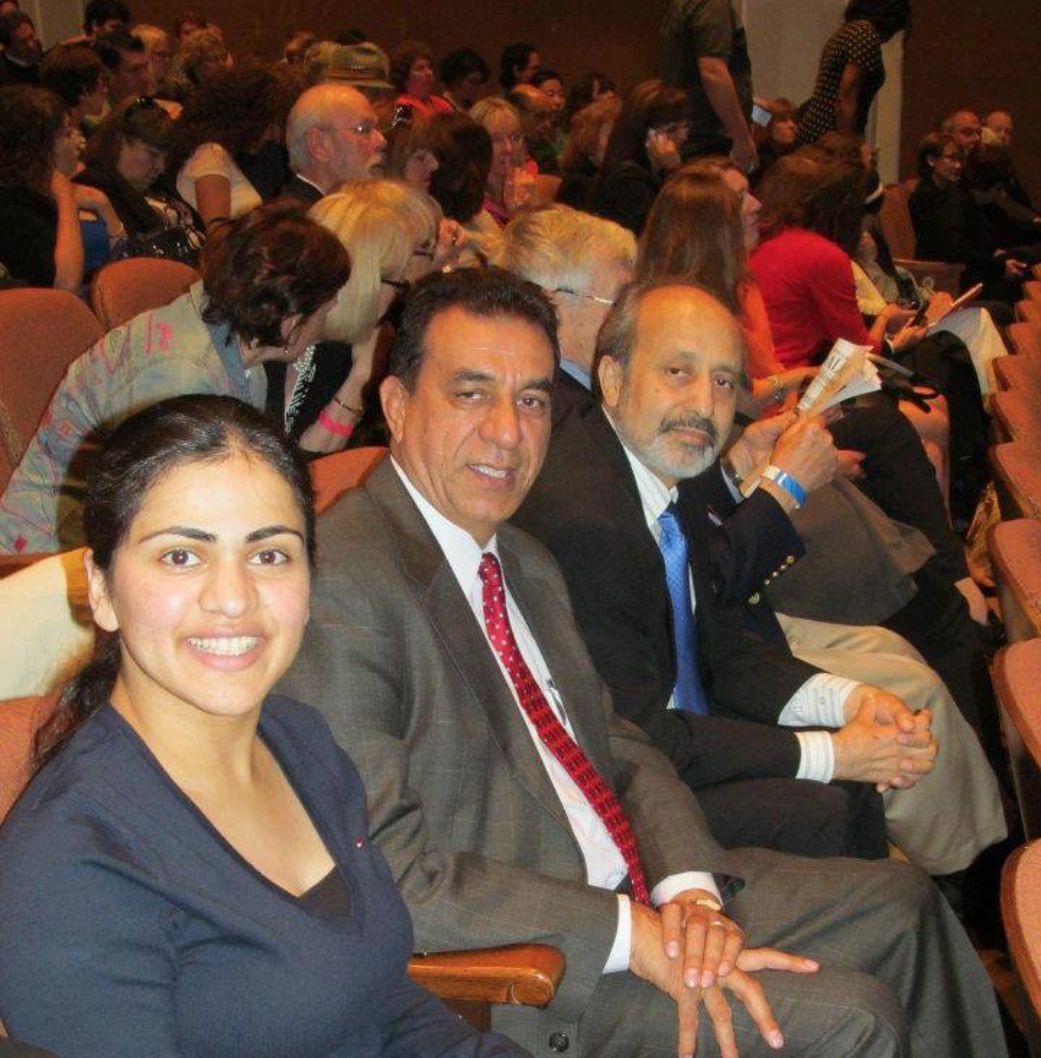 In short, Omar Mateen's father was part of an extraordinarily well-connected network of Afghan expatriates, who were not just leftovers from the US-backed Afghan jihad during the Cold War, but were also key players in a post-9/11 US-Afghan military-industrial complex.
How, though — if at all — does this relate to the fact that Mir Seddique's son became an extremist, homophobic terrorist?
Omar Mateen: gay son of a homophobic mujahid?
While Mir Seddique did condemn his son's actions as "an act of terror", in a widely reported video post after the attack he stated that homosexuality is a sin "only punishable by God."
Omar Mateen had attended and drunk at the Pulse nightclub dozens of times for around 3 years while regularly using gay phone apps according to eyewitnesses and acquaintances.
Numerous sources and former friends described him as regularly attending LGBTQ bars and earnestly wanting to have a gay relationship as early as 2006. Mir Seddique's son was, it seems, deeply conflicted about his own sexuality, especially in the context of his conservative upbringing.
In an interview with The Mirror, Mir Seddique vehemently denied that his son could be gay precisely due to that upbringing, describing him as a "normal" family man:
"There is no way he was homosexual, he was not brought up that way. I will not have it. He was not gay."
Omar Mateen visited his parents regularly, including the day before his killing spree, and treated them with respect and deference. He was clearly aware of his father's background and political activism, which was no secret in the expatriate community.
He therefore would have been somewhat familiar with Mir Seddique's constant efforts to ingratiate himself with the US government, while selectively condemning Pakistan-backed terrorism and occasionally lauding the Taliban.
But overall, his relationship with his father was conflicted. Reported conversations with his gay friends suggest that Omar Mateen harboured a deep-seated resentment toward the beliefs and practices of his ex-mujahid father.
"Some of those people did a little more than (kiss) outside the bar," said one Pulse regular Ty Smith. "He [Omar Mateen] was partying with the people who supposedly drove him to do this?"
Smith's partner, Chris Callen, said of Mateen the son:
"(He'd get) really, really drunk. He couldn't drink when he was at home — around his wife, or family. His father was really strict. He used to bitch about it."
But Mateen still remained violently oversensitive about his religious faith. According to Callen, when one of their friends made a joke about religion:
"He ended up pulling a knife. He said if he ever messed with him again, you know how it'll turn out."
If Omar Mateen was indeed the gay son of a member of the Afghan mujahideen, it would make sense that he could not reconcile his father's ultra-conservative religious views with his own sexual identity.
Was Mateen the son also conflicted over his father's political views and activities?
In the words of his ex-wife, Sitora Yusifiy, who admitted that Omar Mateen used to drink regularly and visit nightclubs:
"He did have a different side to him that he could not open up to his father about."
From 2007 onwards during his employment as an armed security officer at the institutionally homophobic G4S, Omar Mateen's identity struggle repeatedly manifested in a double-life by which he repressed his conflicted sexual identity. In doing so, he increasingly used discriminatory violence as an outlet — violence against his ex-wife, casual homophobia, threats of violence against black people and Jews, and an exaggerated display of interest in women.
Such aggressively homophobic behaviour by a hidden homosexual would be consistent with the wealth of scientific evidence showing that hostility towards gays is usually a marker of holding same-sex desires — and can be exacerbated by having authoritarian parents who are homophobic.
What happens, though, if the parent is not just authoritarian, but an uncompromising, homophobic Cold Warrior veteran of the US-backed Afghan jihad, with arguably hypocritical aspirations of political ascendancy under US tutelage?
A common thread running through studies of the radicalization process amongst Western citizens who become Islamist extremists, is that they see the promise of martyrdom through jihad as a last resort to be saved from a life believed to be full of hopelessness, sin and depravity.
Extreme violent jihad is posited as a mechanism to resolve an acute internal identity crisis. Perhaps the most critical feature of that crisis is the hemorraghing of self-esteem against the belief that one is damned within Islam (interpreted in a narrow, reductionist fashion), but equally outcast from wider society.
The only light at the end of the tunnel, then, according to the simplistic fundamentalist theology of groups like ISIS, is to become a mujahid.
Did Omar Mateen see his last act in Orlando, in which he finally pledged allegiance to ISIS, as his brutal ticket to salvation? Was Omar Mateen following the footsteps of his father in the ultimate act of repressing his own homosexuality by becoming a mujahid who attained martydom in the act of massacring those he kept failing to resist? Was Omar Mateen's last act, equally, an act of defiance against his father, a psychological one-up in which he became a better mujahid than his father could ever be?
While there may never be a clear answer to this question, what is clear is that the internal ideological conflict that partly drove Omar Mateen to his despicable actions was incubated in a very unique context.
Brought up by an ultra-conservative former Afghan mujahid, Omar Mateen was the product of a fatal collision between two forces: first, an expatriate Cold War Afghan jihad network growing increasingly disillusioned with US policy in Afghanistan, but paradoxically benefiting parastically from that very policy through a post-9/11 US-Afghan military-industrial complex; and second, the American liberal culture in which Omar Mateen grew up.
Into this collision, there can be little doubt that Mateen's heritage as the son of an ex-mujahid, combined with what appears to be an increasingly fraught struggle with his own sexuality, made him uniquely susceptible to the reductionist ideological machinations of a group like ISIS.
Of one thing there can be no doubt: the Orlando massacre is yet another echo of both the Cold War and the post-9/11 'war on terror', a horror reverberating from 37 years of US military intervention in Afghanistan.
Member discussion