Labour Party leader Jeremy Corbyn has just announced that a dossier of 451-pages of secret government documents prove once and for all that Boris Johnson and the Conservative government have been in trade-talks with the US, in which the NHS has been up for sale.
As coverage of the documents accelerates, much of the British press is reporting that Corbyn's description of the documents is not supported by their actual contents. Meanwhile, the official Conservative government response has been to accuse Labour of lying.
What's going on?
To help make sense of things, we've collected together links to the documents, along with screenshots of the main sections which seem relevant to the disputed claims.
The documents certainly prove that active trade talks between the US and UK governments have been well underway. However, these documents don't concern the existing Boris Johnson government — they relate to talks that took place under Theresa May's premiership.
It's less clear what role the NHS played in these talks. The NHS and Britain's health sector are mentioned only a few times in these documents and without much detail.
You can read the original documents for yourself courtesy of Guido Fawkes which has uploaded all of them here via Scribd.
What follows now are the relevant screenshots from across the documents, with some discussion of what they seem to be saying.
Liberalising services


There can be little doubt here that the discussion is about Britain's services trade. For context, a parliamentary research report published in July 2019 explains that services account for "around 80% of the UK economic output and 46% of UK exports, and this share has been growing over time… Services sectors cover a broad range of activities. Professional and business services, combined with financial services, account for a half of UK services exports, but cross-border trade takes place in many more areas, from tourism and travel, transportation by road, sea, air and rail, telecoms and IT, to broadcasting, film, culture, (higher) education, construction and retail."
There is no specific reference in the government document here to 'public services' or to health, but it's also clear that services can include sectors which might be currently run by public bodies.
What we can certainly glean from the document is that the British government has indeed been keen to open up — "liberalise" — these service sectors to American private finance.
Nursing

There are very few direct references to Britain's health sector across the documents, but this is one paragraph which makes a specific reference to US government interest in opening up access to the British nursing sector, which is obviously part of the NHS. Yet what exactly does this mean?
The specific proposal is opaque — the discussion seems to be about creating some sort of agreement designed to open up Britain to more American nurses, or vice versa; but it's not clear what exactly this might entail.
Pharmaceuticals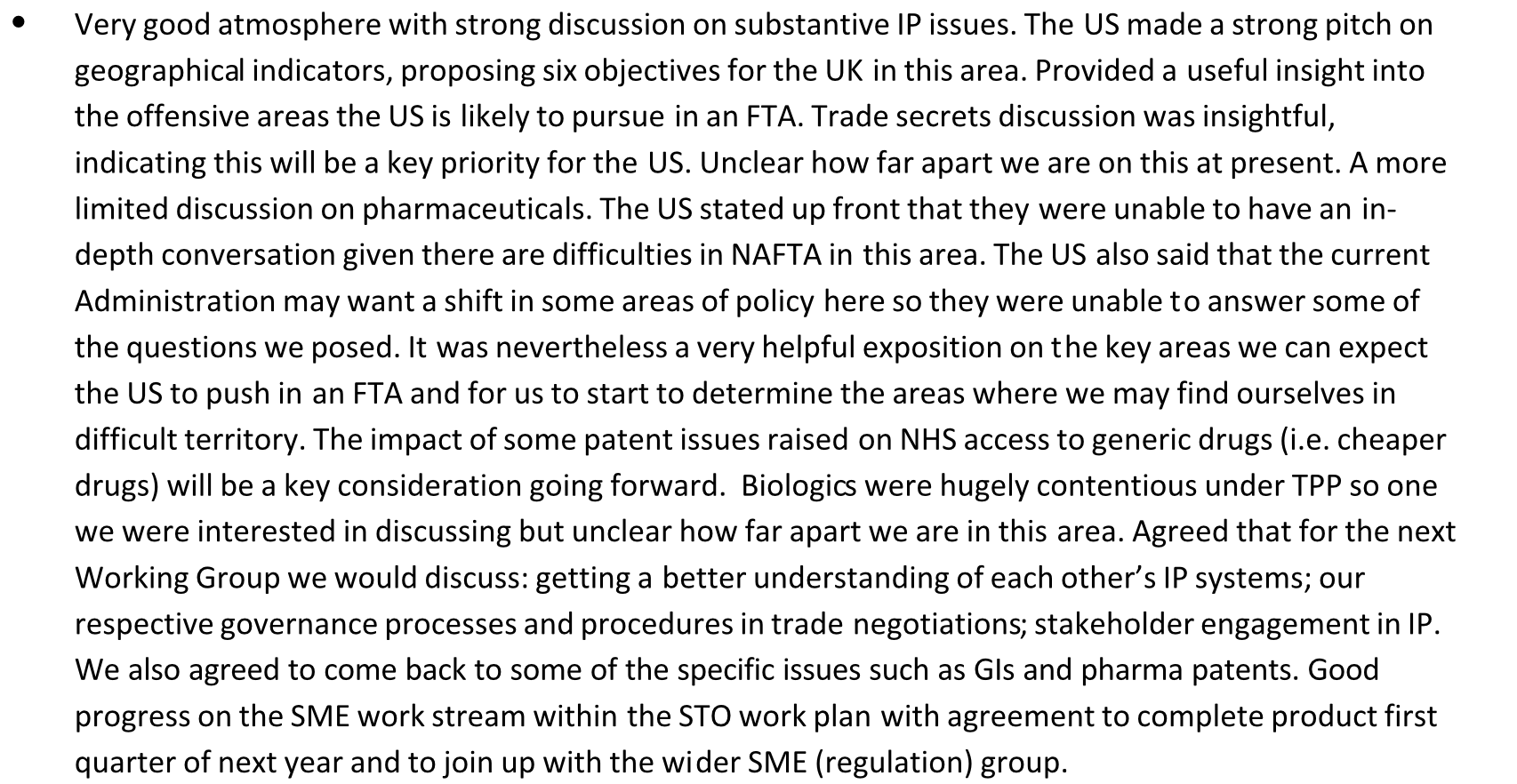 This section mentions that the US may want to push its pharmaceutical interests and that "we may find ourselves in difficult territory". It then says: "The impact of some patent issues raised on NHS access to generic drugs (i.e. cheaper drugs) will be a key consideration going forward."
What exactly this entails is unclear, and the document indicates that further discussion was necessary: "We also agreed to come back to some of the specific issues as GIs and pharma patents."
There are no specific implications outlined here. The document shows for certain, though, that the British government is open to discussing a bigger role of American pharmaceuticals in the UK, and that this may well raise some issues for NHS access to cheaper drugs.
Health data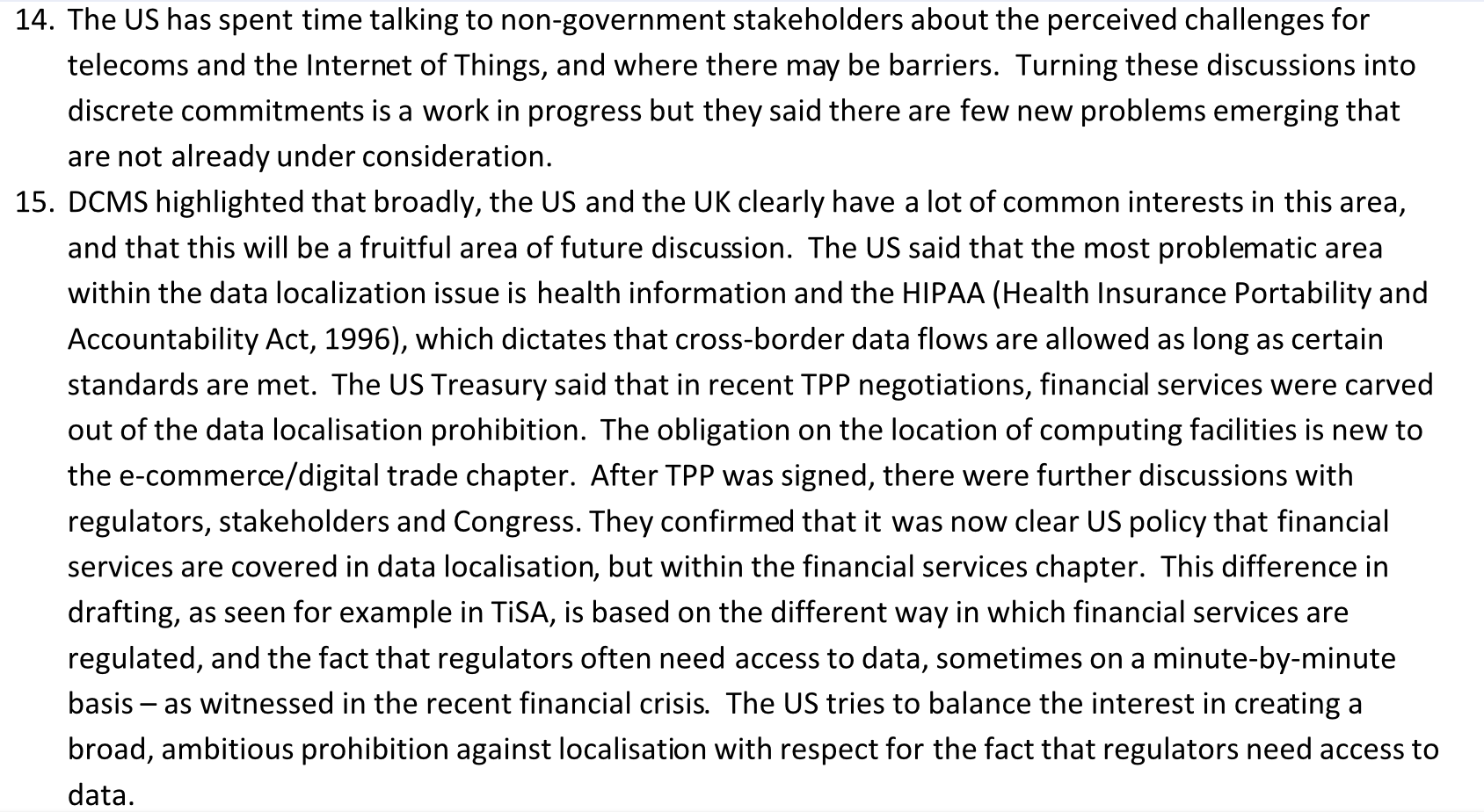 This section makes no direct reference to the British health sector but flags up US interests in promoting the 'Internet of Things' and data-sharing. There certainly seems to be a suggestion of US interest in accessing British health data in the name of broad regulation: "The US said that the most problematic area within the data localization issue is health information and the HIPAA (Health Insurance Portability and Accountability Act, 1996), which dicates that cross-border data flows are allowed as long as certain standards are met."
The Act is supposed to protect sensitive and private health information of patients. It's not clear why the US would want to discuss its internal challenges around navigating access to patient healthcare data with the British government.
Health insurance and the NHS?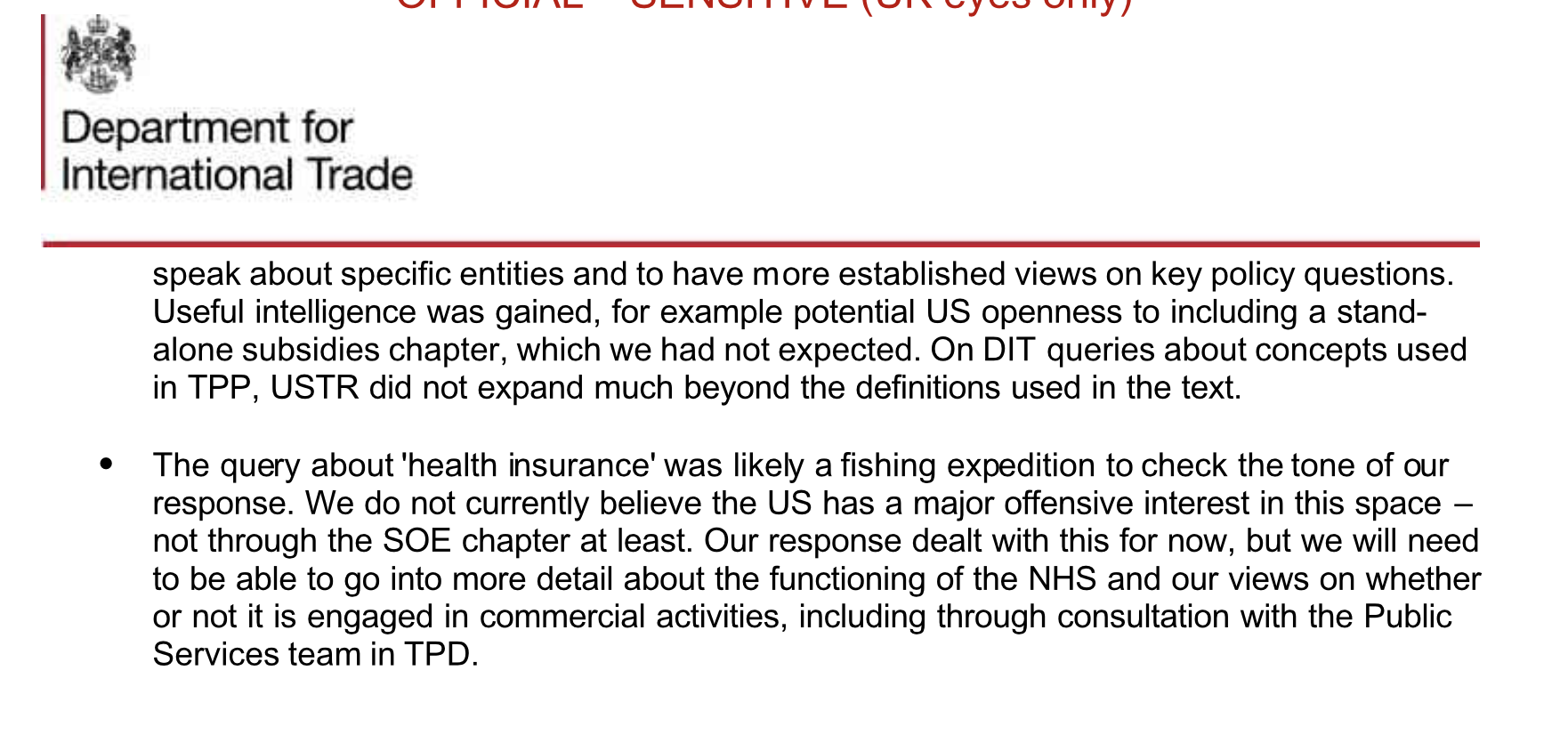 This section is perhaps of most direct relevance. On the one hand, it tends to go against the inference that the British government was actively trying to sell the NHS to the US with a view to create an American style private insurance system.
The document proves that some sort of discussion took place, initiated by a US "query" — but the document clarifies that the British government does not "currently believe the US has a major offensive interest in this space — not through the SOE chapter at least." SOE stands for 'state-owned enterprise'.
However, although the document doesn't particularly enthuse on the idea, it also doesn't totally close the door on it:
"…we will need to be able to go into more detail about the functioning of the NHS and our views on whether or not it is engaged in commercial activities, including through consultation with the Public Services team..."
This does seem to show unequivocally that the British government was open to exploring with the US the "commercial activities" of the NHS in the context of its "query about health insurance."
Equally, though, it indicates that any US-UK talks about this matter were not, at this time, very far advanced.
The query was dismissed as a "fishing expedition", and the paragraph indicates that detailed discussions on the issue had not yet taken place. It also reveals a degree of British government scepticism of whether the US was really interested in its own query.
NHS protection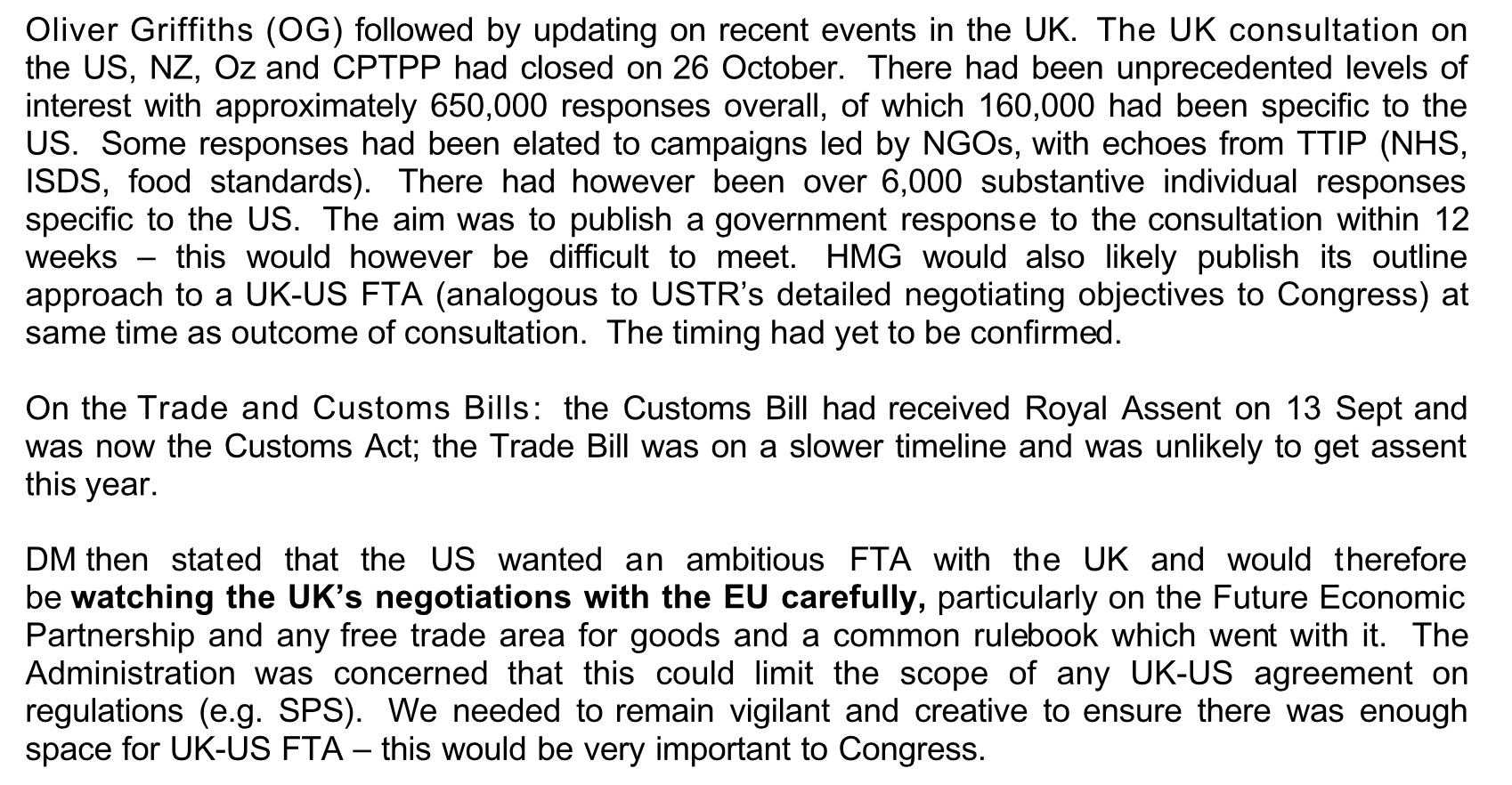 The NHS is mentioned here in the context of UK government consultations regarding a future trade agreement, but the context is about public concerns over "NHS protection", among other matters, as a key point of feedback.
The document shows that the government will be considering this feedback for how it conducts "future trade talks".
Conclusions
In summary, there is not very much in this 451-page dossier to draw absolute conclusions about what was going on in these US-UK trade talks concerning the NHS.
The NHS and British health sector are barely mentioned.
However, opaque discussions about nursing sector and NHS pharmaceutical patents, including access to cheap drugs, did take place, although the content of these talks remains unclear.
There is little evidence that talks about selling the NHS to the US were far advanced, but the British government had certainly kept the door open for continuing discussions about how the commercial activities of the NHS might be of interest to the US.
In particular, an unresolved conversation had opened between the US and British governments concerning "health insurance". Talks on that seem to have been very preliminary, and it's not clear whether they went anywhere.
At this point, what's clear is that we don't have a full picture. The only reasonable way forward is for the British government to proceed by disclosing the full nature of any continuing discussions with the US government related to the NHS, health data, pharmaceutical patents and so on.
Member discussion